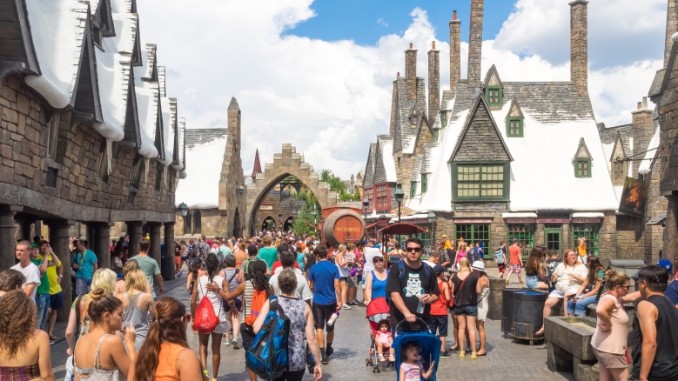 Seit 2014 begrüßt in Orlando The Wizarding World of Harry Potter ein auf zwei Freizeitparks verteilter Themenbereich Freunde und Fans des Zauberlehrlings Harry Potter. Im Park "Adventure Island" trifft man auf das Schulschloss, das ausschließlich von Zauberern bewohnte Dörfchen Hogsmeade und den Bahnhof, an welchem Harry und seine Freunde nach den Sommerferien stets von Hagrid, dem Wildhüter der Schule abgeholt werden. Wer möchte, steigt nun in den Hogwarts Express und fährt hinüber nach London, besser gesagt in die Winkelgasse. Dieser Teil der "The Wizarding World of Harry Potter" liegt außerhalb von "Adventure Island" und kann ausschließlich mit dem scharlachroten Zug erreicht werden. In der Diagon Alley sieht man die auch in den Büchern erwähnten Geschäfte sich nebeneinander aufreihen. Am Ende der Winkelgasse thront Gringotts, die schneeweiße Zaubererbank. Brüllend und schnaubend hockt auf dem Dach der weiße Drache, dem im letzten Band eine entscheidende Rolle zukommt. Er lädt ein, in die Unterwelt Londons abzutauchen.
Wer in das Foyer des Geldinstituts spaziert, trifft auf Kobolde. Die Animatronics agieren so real, dass man meinen könnte tatsächlich vor Griphook uns seinen Kollegen zu stehen. Dann geht es hinunter zu den Verliesen von Gringotts. Dafür besteigen die Muggel-Besucher, ganz nach Zauberer-Manier die Stahlachterbahn "Harry Potter and the Escape from Gringotts". Rund 600 Meter geht es rasant und kurvenreich durch die Gewölbe. Sowohl echte Nachbauten wie auch Animationen erwecken den Eindruck Harry, Hermine und Ron bei ihrer Jagd nach den Horkruxen zu helfen. Mit einer 3D-Brille auf der Nase, erscheinen die Spezialeffekte noch spektakulärer. Weniger rasant, dafür nicht minder aufregend ist die Fahrt mit dem Hogwarts Express. Von Gleis 9 3/4 aus zuckelt und schnaubt er Richtung Zauberschule. Da die Parkbesucher mit dieser Attraktion tatsächlich eine rund ein Kilometer lange Strecke zurücklegen, jene aber selbstverständlich nicht durch die schottischen Highlands führt, wurden an den Fensterscheiden Bildschirme angebracht.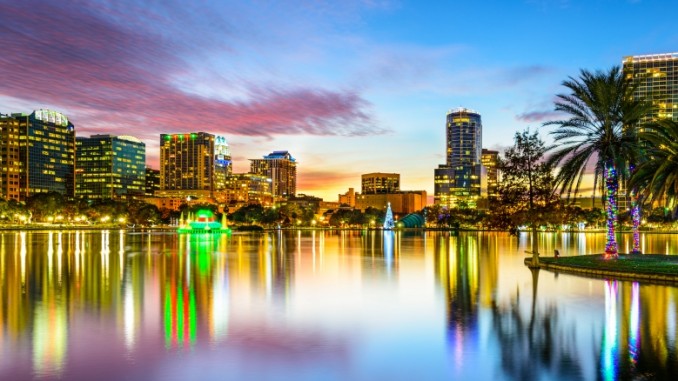 Sie simulieren die Fahrt über den Glenfinnan-Viadukt und schon bald tauchen die Dächer von Hogsmeade am Horizont auf. Wer möchte, kehrt in die "Drei Besen" auf ein alkoholfreies Butterbier ein oder kauft sich im Honigtopf "Bertie Botts Bohnen jeder Geschmacksrichtung". Doch Vorsicht! Wie in Harrys Welt so haben die Süßwaren auch in Orlando tatsächlich jede Geschmacksrichtung! Nach dieser kleinen Stärkung und einer Stippvisite in der Eulenpostfiliale erwartet die Besucher nun das Highlight: Die Ankunft in Hogwarts! Das von den Parkverantwortlichen nachgebaute Schloss orientiert sich im Detail an den Büchern von J. K. Rowling und so wird jeder Harry-Potter-Leser seine wahrgewordene Phantasie bestaunen! Wenn irgend möglich, empfiehlt sich der Besuch des altehrwürdigen Gemäuers nach Einbruch der Dunkelheit. Unzählige Strahler erhellen dann den Nachthimmel und tauchen Hogwarts in ein schaurig grünes Licht. Im Schloss selbst begegnen den Muggeln alte Bekannte. Peeves, der Fast Kopflose Nick, die Professoren Snape und McGonagall sowie Dumbledore höchstpersönlich heißen sie Willkommen.