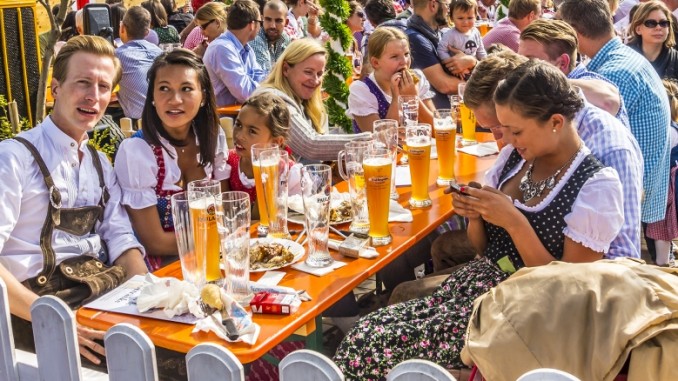 Oktoberfest in Cape Coral besuchen
Das Cape Coral Oktoberfest gehört zu den größten und auch bekanntesten Veranstaltungen dort mit vielen Besuchern darunter sind natürlich auch viele Touristen. Das bekannteste Oktoberfest der Welt ist natürlich das Original in München das jedes Jahr Millionen von Besucher anlockt. Es gibt weltweit viele Nachahmer wie zum Beispiel das Cape Coral Oktoberfest das vom The German-American Social Club of Cape Coral veranstaltet wird. Das ist so beliebt das es schon zum 29. Mal stattfindet.
Was gibt es dort zu Essen und Trinken
Die Amerikaner möchten natürlich auch einmal gerne Deutsches Weißbier und die zünftigen Bayerischen Spezialitäten essen wie Schweinshaxe, Leberkäse oder eine Bratwurst. Besonders in den USA gibt es viele Oktoberfeste da viele Amerikaner Vorfahren aus Deutschland haben. Oder dort einmal stationiert waren bei einem US-Stützpunkt. Das Oktoberfest in Cape Coral ist anscheinend das größte in ganz Florida. Dann kommen immer viele Deutsche die in Florida leben und auch Touristen. Wer also gerne eine Bratwurst essen möchte und keine Lust mehr auf Burger hat sollte diese Veranstaltung besuchen.
Wann findet dieses statt
Es findet immer an zwei Wochenenden im Oktober statt und dafür wird extra ein großes Zelt aufgestellt wie in München das natürlich auch schön geschmückt wird damit es dem Original sehr ähnlich kommt. Die Adresse ist 2101 SW Pine Island Road im Norden von Cape Coral in Richtung der Insel Pine Island. Im Prinzip kann man es nicht verfehlen da man das Zelt ja schon von weitem sehen kann.
Blasmusik
Meistens wird auch noch eine Blasmusikkapelle aus Deutschland eingeladen die für die notwendige Stimmung sorgt wenn man gerade ein Wiener Schitzel oder Sauerbraten zu sich nimmt. Deutsches Bier wird immer importiert und das schmeckt natürlich besonders gut bei den heißen Temperaturen in Florida. Für die Besucher wichtig zu Wissen ist das man dort eine Eintrittsgebühr bezahlen muß und diese kostet ungefähr 6 US-Dollar pro Person. Kinder unter 12 Jahren erhalten einen kostenlosen Eintritt und es gibt auch noch einen Spielplatz wo diese spielen können.
Das Parken ist kostenlos da sicherlich die meisten Besucher mit dem Auto kommen. Die Krönung des Cape Coral Oktoberfest ist immer die Wahl der Miss Oktoberfest wo dann die Stimmung immer besonders groß ist. Wenn man gerade im Oktober in Cape Coral Urlaub macht dann sollte man diese Veranstaltung nicht verpassen. Man trifft dort immer viele Touristen aus Deutschland oder kann sich mit Deutschen austauschen die dort wohnen. Diese freuen sich natürlich immer über einen Besuch und man erfährt sehr vieles.
Dirndl und Lederhose
Am besten sollten die Damen im Dirndl und die Männer in der Lederhose hingehen das den Amerikanern sehr gefällt. Rund 30.000 Besucher hat das Oktoberfest in Cape Coral an den zwei Wochenenden und die Stimmung ist immer sehr gut und Heimatgefühle kommen dort sofort hoch. Tiere dürfen dort allerdings nicht mitgebracht werden und diese sollte man lieber im Ferienhaus lassen. Das großte Festzelt ist immer sehr schön geschmückt und man wird sich dort bestimmt sehr schnell wohlfühlen als Besucher.